This year's Baileys Women's Prize for Fiction longlist was announced today. The twenty novels are: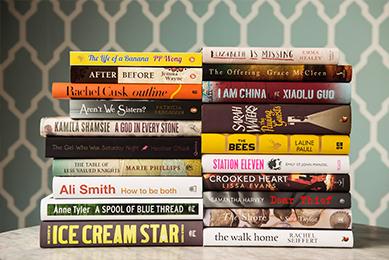 Outline by Rachel Cusk Crooked Heart by Lissa Evans Aren't We Sisters? by Patricia Ferguson I Am China by Xiaolu Guo Dear Thief by Samantha Harvey
Elizabeth is Missing by Emma Healey
Station Eleven by Emily St. John Mandel
The Offering by Grace McCleen The Country of Ice Cream Star by Sandra Newman The Girl Who Was Saturday Night by Heather O'Neil The Bees by Laline Paull The Table of Less Valued Knights by Marie Phillips The Walk Home by Rachel Seiffert A God in Every Stone by Kamila Shamsie How to be Both by Ali Smith The Shore by Sara Taylor A Spool of Blue Thread by Anne Tyler
The Paying Guests by Sarah Waters
After Before by Jemma Wayne The Life of a Banana by PP Wong
So far, I have read three of the longlisted novels. I loved 'Elizabeth is Missing' by Emma Healey which was probably my favourite debut novel of 2014 and 'The Paying Guests' by Sarah Waters. I didn't love 'Station Eleven' by Emily St. John Mandel but it has been very popular and I'm not surprised to see it on the longlist.
The books I hoped would feature on the list but didn't make the cut were:
Academy Street by Mary Costello
  – an excellent novella
Dept. of Speculation by Jenny Offill
 – another excellent novella
Everything I Never Told You by Celeste Ng
 – probably my second favourite debut novel of 2014  
Whereas the Man Booker Prize longlist usually features a few titles which have yet to be published, the Women's Prize for Fiction longlist always seems more familiar and therefore slightly easier to predict. Moreover, there are twenty books on the Women's Prize for Fiction longlist compared to thirteen on the Man Booker Prize longlist so there tends to be more room for variety and a good balance between established authors and new names. The two novels on this year's longlist I definitely want to read are 'A Spool of Blue Thread' by Anne Tyler and 'How To Be Both' by Ali Smith and I'm keen to find out more about some of the less well-known novels like 'Crooked Heart' by Lissa Evans.
The shortlist will be announced on 13th April and the winner will be announced on 3rd June. What do you think of this year's longlist?  Have you read any of the books? What are your predictions for the shortlist? Who are you rooting for to win?