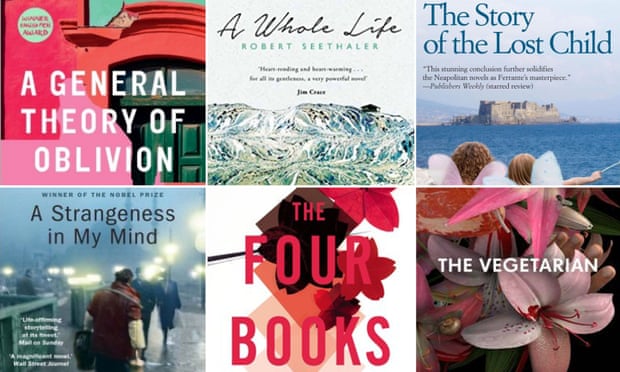 The official shortlist for the Man Booker International Prize was announced on Thursday. The six books are:
Overall, I'm very pleased with this list as it includes four of my personal favourites so far (Lianke, Ferrante, Kang and Seethaler) while Pamuk and Agualusa are previous winners of the Independent Foreign Fiction Prize. I think it's going to be very difficult to choose a winner from these six books. Although I think it's fantastic that Ferrante has been recognised and some might consider her book to be the favourite, I do wonder if it's possible to judge 'The Story of the Lost Child' as a stand-alone novel without the context of the previous books in her series of Neapolitan novels. This will be something the judges and the shadow panel will have to consider over the next few weeks.
I went to the shortlist party in the Orangery at Kensington Palace on Thursday evening where I met other book bloggers including Stu, David and Simon (I like to think that Elena Ferrante was attending in disguise but sadly she didn't introduce herself…). Chair of the judges Boyd Tonkin (who previously chaired the Independent Foreign Fiction Prize judging panel) and the Man Booker International Prize administrator Fiammetta Rocco spoke about the strengths and diversity of this year's nominations having whittled down the shortlist to six books from a total of 155 submissions. The shortlist had already been announced in the media before the event but it was also revealed that two Man Booker International Prize podcasts will be produced in association with Walter Iuzzolino who founded the Walter Presents on demand service on Channel 4 specialising in foreign language TV series.
Elsewhere, the members of the shadow panel have chosen our Man Booker International Prize shortlist. The six books are:
The three books which overlap with the official shortlist are among my favourites along with two very strong French novels. All four of the female longlisted authors have made the cut and female translators are also well represented on our list. As I mentioned in my review last week, 'Death by Water' has either been loved or loathed by members of the shadow panel and there has been some contention over the inclusion of 'The Story of the Lost Child' for the reasons mentioned above. It's also worth noting that 'Tram 83' by Fiston Mwanza Mujila narrowly missed out on a place in our shortlist. However, it's one of two books on the longlist I haven't had a chance to read yet so I can't comment on how I feel about this yet.
I will be catching up with my reviews over the next few weeks before the winning author and translator are announced on Monday 16th May. What do you think of the official (and shadow panel) shortlist? Which book would you like to see win the prize?