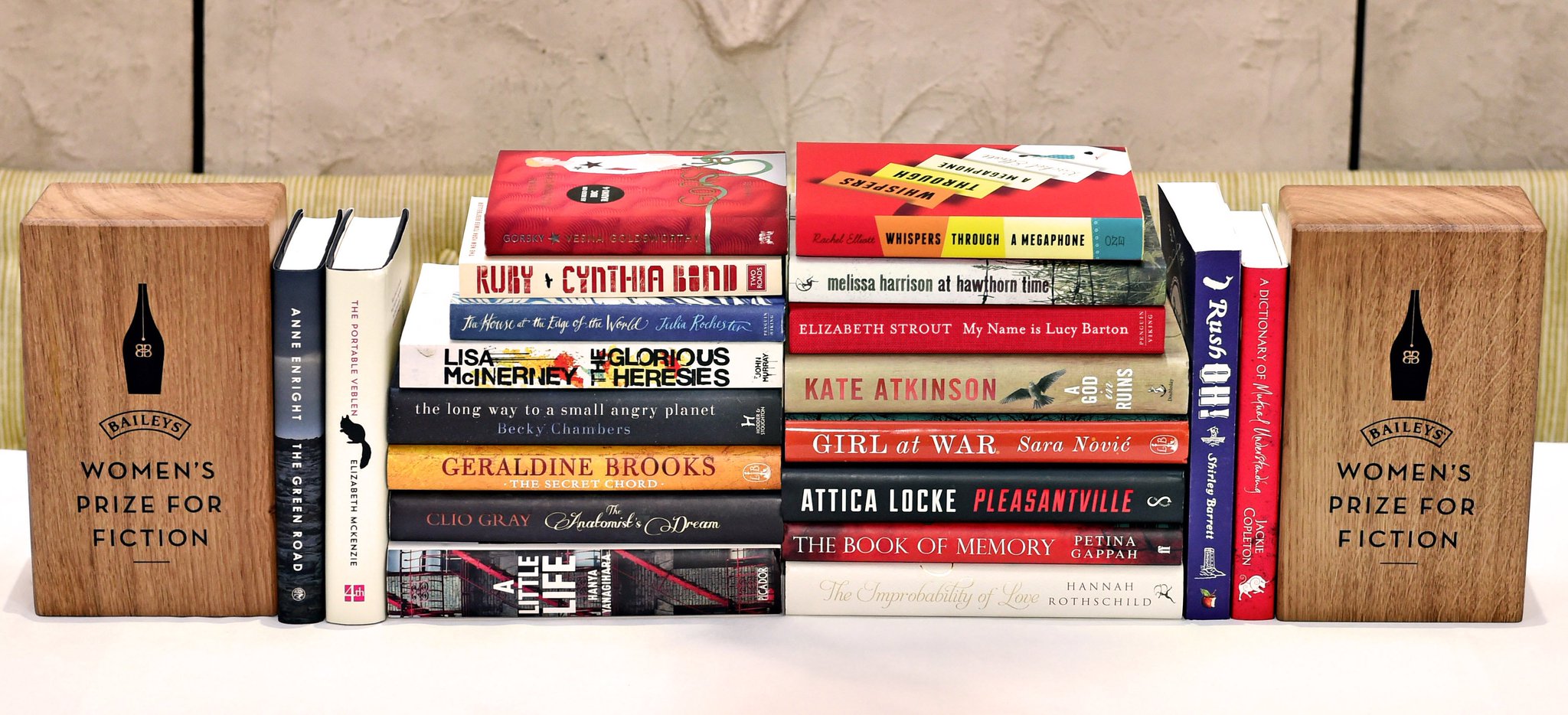 This year's Baileys Women's Prize for Fiction longlist was announced today. The twenty novels are:
A God in Ruins by Kate Atkinson
Rush Oh! by Shirley Barrett
Ruby by Cynthia Bond
The Secret Chord by Geraldine Brooks
The Long Way to a Small, Angry Planet by Becky Chambers
A Dictionary of Mutual Understanding by Jackie Copleton
Whispers Through a Megaphone by Rachel Elliott
The Green Road by Anne Enright
The Book of Memory by Petina Gappah
Gorsky by Vesna Goldsworthy
The Anatomist's Dream by Clio Gray
At Hawthorn Time by Melissa Harrison
Pleasantville by Attica Locke
The Glorious Heresies by Lisa McInerney
The Portable Veblen by Elizabeth McKenzie
 Girl at War by Sara Nović
The House at the Edge of the World by Julia Rochester
The Improbability of Love by Hannah Rothschild
A Little Life by Hanya Yanagihara
I have read two of the longlisted titles and am both very pleased and not at all surprised to see A Little Life by Hanya Yanagihara and A God in Ruins by Kate Atkinson on the list among the more well-known novels. Eligible books I would liked to have seen on the list but didn't make the cut include Things We Have in Common by Tasha Kavanagh, Eileen by Ottessa Moshfegh and Fishnet by Kirstin Innes – a debut novel I read a couple of months ago but haven't reviewed yet which deservedly won the Guardian's Not the Booker Prize last year.
As ever, many of the books are completely new to me, partly because eleven out of the twenty novels are debuts – a high proportion even for the Baileys Prize which always has a varied mix of new and established authors. I've already heard many good things about 'My Name is Lucy Barton' by Elizabeth Strout and 'Pleasantville' by Attica Locke from people whose views I trust and I'm looking forward to hearing more about the debut novels from various bloggers participating in the Baileys Prize shadow panel. However, as I'm taking part in the shadow panel for the Man Booker International Prize whose longlist will be announced on Thursday, exploring this year's Baileys Prize books will have to wait a while.
The shortlist will be announced on 11th April and the winner will be announced on 8th June. What do you think of this year's longlist? Have you read any of the twenty titles?